Multiple bedrooms and a sprawling backyard is the Aussie dream for most families. But in today's housing market affording what you want (or as much space as you think you need) can seem like a far away dream. Living happily in a small home doesn't have to be all about sacrifice. If you play it smart your family can maximise space and fit in all the necessities.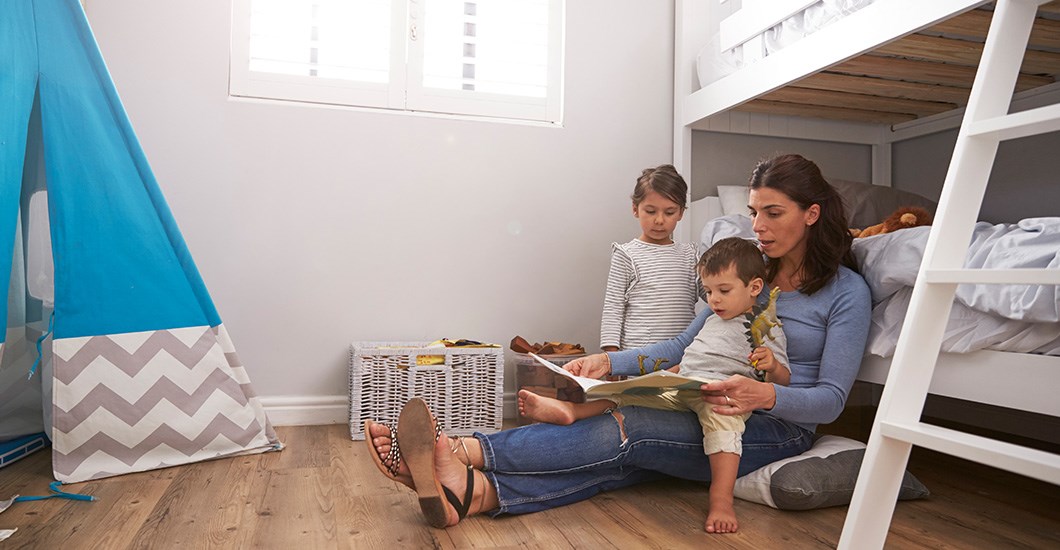 Quit the clutter
Natalie Kilburn runs a Lifestyle Management business, Belle Vie Concierge, in Sydney. She offers help in any area you can imagine from personal assistance to event planning and of course, home and life organisation. She says cutting back on clutter should be top priority when living in a small space.
"The first rule when working with a small space is to minimise the clutter, this will give you more space to work with, for example a small kitchen has limited work surfaces to begin with, so keep kitchen items off these and up in the cupboards to prevent your preparation area being reduced.
The goal is to use all areas and spaces you have available to you when you have a compact home. Small corners and crevices are often underutilised and can be a great space to insert shelving/storage. You might also want to think about utilising the space not only within the cupboard shelving but also by using storage that can be hung on the inside of the door. A good example of this would be to maximise your pantry space by placing racks on the inside of doors which will provide extra storage to place items such as spices."
Find out more on Facebook and Instagram.
Store tall, not wide
Professional organiser and busy working mum, Linda Eagleton, understands how hard it is keeping organised when you have a family. Her business, Creative Surrounds, is all about helping you achieve beautiful, functional and tidy living spaces. She shared with us an insider tip on maximising your storage space:
"Make the most of your vertical space like the tops of wardrobes. Measure the top shelf including the height, and get storage tubs to fit that can stack and make the most of every inch of the storage opportunity. Just make sure you also measure the opening, so you can get them in and out easily. Store out of season clothes and linens here."
Find out more on Facebook and Instagram.
Choose smarter furniture
We love the idea of a big house with a designated living, dining, study and guest bedroom but let's be realistic – not every home has enough rooms to go around. But this doesn't mean the spatially challenged should give up on a fully functional home. It may not be grand, but a futon sofa is a great way to combine your living spaces with a guest bed when needed. Or keep an eye out for multipurpose furniture like storage ottomans that double up as shoe storage and a seat to put them on at the front door. Lastly, a taller bed base with room for storage underneath or gas lift bed frame is a smart way to increase your storage space for linens and towels within easy reach.
Tricks to make it look bigger
Sharron Tancred, from Tailored Artworks, creates personalised artworks to bring to life the visions you have for your home. She helped us with some tips on how art and shapes can create positive optical illusions in your home.
"- Green and Yellow are both receding colours that will create the illusion of more space
– A white and natural colour palette with green is excellent for small spaces
– You can have bright colours, but keep them to smaller shapes and not too many colours. 3 is ample
– Use vertical lines in your decor e.g. drapes, plants, patterns and artwork shapes to create the illusion of higher ceilings
– Reduce the use of circles and curves to the bare minimum as these shapes will create a more cluttered looking space
– Dress your larger walls to their proportion. This means larger art again. Large art that incorporates a distant view, in keeping with your decor style, will create the illusion of more space.
– Watch your furniture clutter! The rule of thumb is 2/3rds space to 1/3rd furniture; not the reverse."
Find out more on Facebook.
Fixing up the kids room
If you're lacking in space it's likely your kids are sharing a room. Maximise space and minimise fuss over who sleeps where with a kids bunk bed. Plus, instill the habit of tidiness with kids storage drawers and baskets.
Take control over your tiny space so that it works the best for your needs. Whether you need to maximise storage or want an optical illusion to make it look bigger, there's a solution for your small home woes.