In general, men's wardrobes can be easier to organise than women's. Men usually don't need as much full-length hanging space and they don't have as many different 'types' of clothing as women – skirts, short dresses, long dresses etc. Having said that, if it is not organised properly it can be a cluttered mountain of mess in no time!
So, here are my 5 simple tricks to organise a wardrobe for a male;
1. DECLUTTER WHAT NO LONGER WORKS
Yes, regardless of who you are, this is always the first step to an organised space. If it no longer fits but is still in good condition, donate to your local charity. If clothes are ripped or stained – it's time to go! This can be a challenge if it's the favourite t-shirt or a sentimental footy jersey from a previous sports life. Even in my house, hubby does not want to part with the history of past season jerseys. Our solution – just keeping the patches from each one as memorabilia.
2. SORT CLOTHING INTO DIFFERENT CATEGORIES
Sort into piles of shorts, pants, t-shirts, dress shirts, jumpers, pyjamas etc. Think about the space you have and what will work best to fold versus hang. If you are short on hanging space, fold all short and long sleeve t-shirts as well as jumpers. Also, jeans can be folded in either half or thirds, depending on the depth of your shelves.
My preference is always to fold jumpers to keep their shape better. These can be stacked on an open shelf or folded and stored 'Marie Kondo' style in a drawer so you can see all of them properly.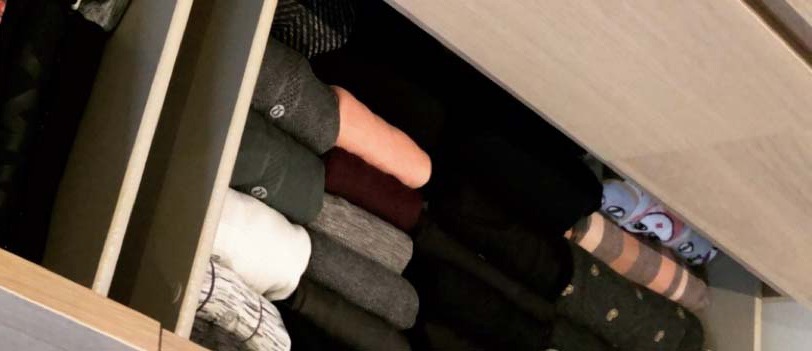 3. ADD DRAWERS FOR GYM GEAR
Gym and sports gear are often made of material like nylon and polyester, that is hard to keep neatly folded. Rather than constantly battling with toppling piles on open shelves, considering using drawers like the Elfa Mesh system that can sit within the wardrobe. Think about storing the socks in here too, separating them from everyday and work socks.
4. GIVE ACCESSORIES A HOME
Gather all the accessories including ties, belts, cufflinks and watches. If there are only a couple of belts, attach hooks to the inside doors on the wardrobe so these can be hung straight. Ties can be hung on speciality hangers like the Eva Tie & Belt Hanger, or rolled in a drawer and kept untangled using drawer dividers.
Keep special items like cufflinks and watches organised using stackable jewellery organisers. Think about one with a clear lid so you can see what's there and be reminded to wear them!
Also, remember to give the wallet and keys a home. This can be a dish on a shelf in the wardrobe, or a bowl on a hallway console by the front door. Whatever you choose, make it easy when you get home to unload the pockets straight away and always know where to find them again as part of your daily routine.
5. USE QUALITY HANGERS
Suits and work shirts can be expensive. Help ensure their longevity by using good quality hangers so the clothes can sit nicely. Suit jackets tend to be heavy so the hangers need to be strong and sturdy also, like the Timber Wide Shoulder Hanger.
If clothes are dry-cleaned, get them out of those plastic bags as soon as possible, airing first if needed to get rid of any chemical odours. Then make sure to transfer clothes to the proper hangers. Put the wire hangers near the front door to return to the drycleaner next time you're there!
For any formal suits or a tux that may only be needed a few times a year, think about a suit bag to protect them from dust and dampness.
Hopefully, a few of these tips can help organise and simplify your wardrobe and make it a bit less daunting every time you go to open it!
Source: https://organised.hsw.com.au/articles/5-simple-tricks-to-organise-a-mans-wardrobe/